Long-Term Disability coverage is designed to protect income in the event an individual is no longer able to work due to an injury or illness. In the event of a disability, an individual with insufficient disability insurance may be forced to utilize a portion of their retirement savings to meet their current financial obligations. Highly compensated employees are particularly susceptible to this risk, as the Group Long-Term Disability Plans (GLTD) provided by most employers often fall short of what is needed for this population of employees.
Individual Long-Term Disability Insurance (IDI) is used as a supplement to GLTD to fill benefit shortfalls that GLTD does not provide. IDI policies are written on a select population of key employees and provide for additional benefits over and above the GLTD.
An IDI policy is issued for a certain amount, usually expressed as a percentage of income, up to a specified cap. In the event of a disability, the IDI policy would supplement GLTD benefit providing additional cash flows for monthly bills such as your mortgage, car payments and other living expenses.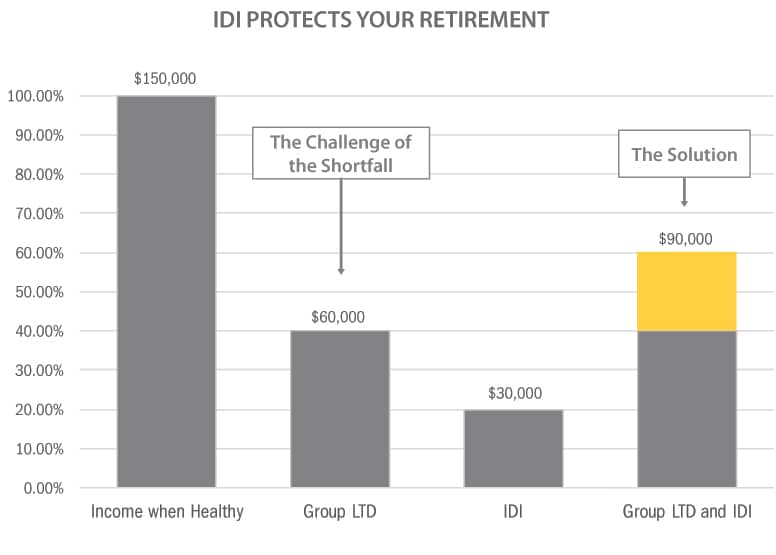 The graph illustrates the challenge of GLTD for highly compensated executives, and how IDI is a solution for protecting retirement assets. As depicted, a GLTD plan intended to replace 60% income with a $5,000 monthly cap will fall short for this illustrated employee earning $150,000 annually. Adding IDI as a supplement to GLTD fills the shortfall and achieves the full 60% income replacement target of $90,000.
In addition to increased benefit levels, providing disability protection through supplemental IDI programs is attractive to highly compensated key employees for the following reasons:
| | |
| --- | --- |
| Key Consideration | Description |
| Portability | IDI policies are permanent and portable. This allows the executive to take the protection with them if they leave the company. |
| Premium Discounts | Employer-provided IDI plans include significant premium discounts that are also permanent and portable. |
| Contract Strength | The most crucial element of a disability policy is its definitions. The definitions in IDI are more favorable than GLTD and are more appropriate for highly compensated employees. |
| Guarantees | IDI policies are guaranteed to never go down in benefit and never go up in cost. |
| Underwriting Concessions | Employer-provided IDI policies are offered on a guaranteed issue (GI) basis. This means there are no medical exams, no ratings, and no exclusions. |
| Convenience | The GI application process involves a convenient, one-page simplified application, no medical or financial underwriting, and one on one expert income protection consulting. |